Blogs - 2017021001 - Colin has been invited to join as speaker in the conference
AITI holds seminar aimed at facilitating SME growth
THE Authority for Info-communications Technology Industry of Brunei Darussalam (AITI) on Wednesday held a seminar titled 'Emerging Technology Opportunities for Brunei Darussalam' at the AITI Building, Kampong Anggerek Desa.
The seminar aimed to raise awareness among ICT industry players, particularly for AAB and ICTAB status businesses, on the latest technology trends, products and applications that can cater to local, international and regional markets.
Rosnani binti Haji Mohd Yusof, Senior Manager at AITI in her welcoming remarks urged ICT industry players to steer their efforts towards expanding beyond the local market and embrace emerging technologies in order to push the industry forward.
She shared that the seminar was an initiative towards achieving the strategic outcomes stated in the National ICT White Paper for Brunei Darussalam which was launched earlier this year by the Minister of Communications.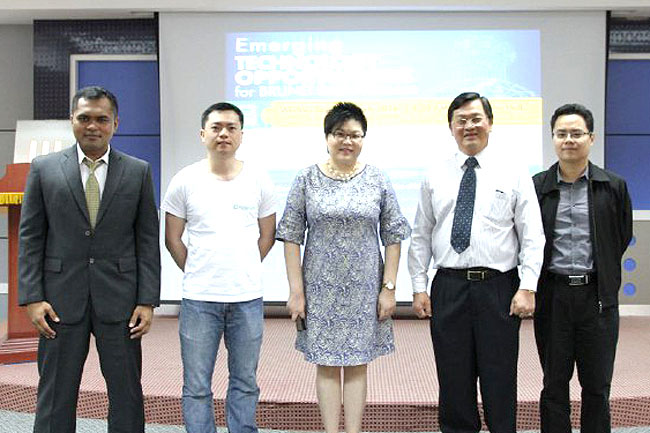 Furthermore, His Majesty Sultan Haji Hassanal Bolkiah Mu'izzaddin Waddaulah ibni Al-Marhum Sultan Haji Omar 'Ali Saifuddien Sa'adul Khairi Waddien, Sultan and Yang Di-Pertuan of Brunei Darussalam in his titah at the opening of this year's Legislative Council session, highlighted the need for relevant stakeholders to focus in facilitating local small and medium enterprises (SMEs) in venturing out and competing in the international market. It is hoped that the seminar will facilitate this.
Various local and international speakers were invited to share their experiences and knowledge on topics covering the development and opportunities in Internet of Things (IoT).

The seminar was attended by officers and staff of AITI, senior government officers and representatives from Higher Learning Institutions, the Brunei Economic Development Board, the Google Development Group and the AAB Status businesses.