Blogs - 2016122901 - Light Control Switches Market by Product Type
Light Control Switches Market by Product Type (Manual Switches, Electronic Switches and Dimmers), Light Source (Incandescent & Halogen, Fluorescent, LED, HID), End Users and Geography - Global Forecasts to 2022


The global light control switches market is expected to reach USD 6.25 Billion (in terms of value) and 2.85 Billion units (in terms of volume) by 2022, at a CAGR of 7.9% and 8.8%, respectively, between 2016 and 2022. The increasing consumer demand for energy-saving lighting systems, convergence of IoT and lighting, acceptance of standard protocols for lighting control, and favorable government initiatives are driving the growth of this market. The base year considered for this report is 2015, and the forecast period for the market has been considered for the period between 2016 and 2022.
This report covers the major segments of the light control switches market such as product type (manual switches, electronic switches and dimmers), light source (incandescent & halogen, fluorescent, LED, HID), end users (commercial lighting, residential lighting, and others), and geography. The market size estimations for these segments are provided in this report, along with the key trends and market dynamics related to these segments. The prime objectives of this report can be summarized in the following points.
To define, describe, and forecast the global light control switches market on the basis of product type, light source, and end user

To provide market statistics with detailed classification and split in terms of value and volume

To forecast the size of market segments with respect to four major regions, namely, North America, Europe, Asia-Pacific (APAC), and Rest of the World (RoW)

To provide detailed information regarding the major factors influencing the growth of the light control switches market (drivers, restraints, opportunities, and challenges)

To detail the industry trends, insights based on the value chain analysis, and strategic benchmarking of the light control switches marke
This research study involves the extensive use of secondary sources, directories, and databases (such as Hoovers, Bloomberg Business, Factiva, and OneSource) to identify and collect information useful for this study. The research methodology followed in this report is explained below.
Analysis of all the end users of light control switches worldwide

Analysis of various light control switches sold to various industries

Analysis of the penetration of light control switches in various industries

Estimation of the market size in terms of volume

Estimation of the market size of the light switches and dimmers in terms of end user by light source

Overall market size along with data triangulation with supply-side data including product developments, supply chain, and estimated sales of light control switches
After arriving at the overall market size, the total market has been split into several segments and subsegments and confirmed with the key industry experts. The figure below shows the breakdown of primaries on the basis of company type, designation, and region.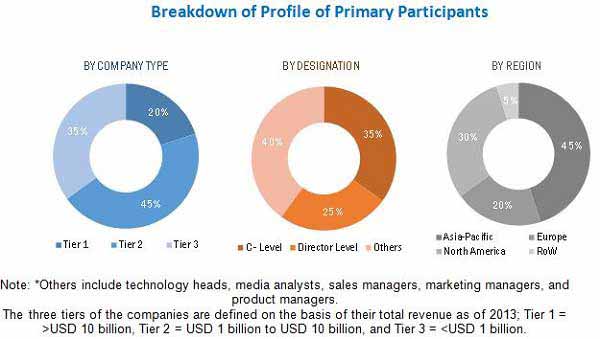 The light control switches ecosystem comprises hardware component manufacturers, prototype designers, and original equipment manufacturers (OEMs); light control switches and dimmers suppliers such as Legrand S.A. (France), Leviton Manufacturing Co., Inc. (U.S.), Lutron Electronics Co., Inc. (U.S.), Hubbell Lighting, Inc. (U.S.), Cooper Industries, Inc. (Ireland), Osram GmbH (Germany), Koninklijke Philips N.V. (Netherlands), Acuity Brands Lighting, Inc. (U.S.), Honeywell International Inc. (U.S.) Schneider Electric SE (France), and Daintree Networks, Inc. (U.S.) among others.
Target Audience:
Light switches manufacturers

Light dimmers manufacturers

Lighting integrators
Government bodies
The market in this report has been segmented as follows:
Light Control Switches Market, by Product Type:
Light Control Switches Market, by Lighting Source:
Incandescent & Halogen

Fluorescent

Light-Emitting Diode (LED)

High-Intensity Discharge (HID)
Light Control Switches Market, by End User:
Commercial Lighting

Residential Lighting

Others
Light Control Switches Market, by Geography:
North America

Europe

APAC

RoW
Available Customizations:
With the given market data, MarketsandMarkets offers customizations according to the company's specific needs. The following customization options are available for the report.
Geographical Analysis
Comprehensive coverage of regulations followed in each region (North America, APAC, Europe, RoW)

Company Information
Detailed analysis and profiling of additional market players (up to five)